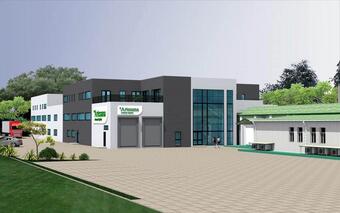 The new factory will be equipped with modern production equipment, from automated milk processing lines, to labeling and final packaging.
The total value of the investment amounts to over 5 million euros and was made possible by selling 20% of the shares to the private equity company, ROCA Investments, through a bank financing and through the non-reimbursable grant obtained through the state aid, amounting to approximately 2.3 million euros.
The new Artesana factory will be built next to the existing one, will have a total area of 30,100 sqm, of which the production area will occupy about 2,350 sqm and will ensure an additional production capacity of about 40 tons of milk per day, three times more much compared to current production.
"The construction of the new factory represents an extremely important moment, which marks a new stage in the development of Artesana. In recent years, we have seen an increase in consumer interest in premium dairy products and we wanted to be able to meet the growing demand in the market. The expansion of production capacity has existed in our development plans since 3 years ago. But we believe that now is the time for this investment, based on the solid partnership with ROCA Investments, which goes beyond the financial dimension and involves know-how and passion - together with them we can accelerate the company's scaling and amplify the potential of our brand", said Daniel Donici, co-founder of Artesana.
In addition to the production area, the new construction was designed to incorporate extensive office space, several meeting and event rooms, as well as a mini craft workshop for team building activities.