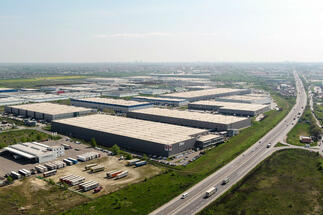 As a result, the end-of-year 2021 valuations of CTP's revenue-generating portfolio are likely to be positively affected. CTP now considers that this compression of yields by the end of 2021, across the entire portfolio, is likely to be higher than 50bps, compared to the average yield of 6.0% at YE 2020 (based on annualized rental income).
Richard Wilkinson, Deputy General Manager and Chief Financial Officer of CTP NV Group, said: "The increase in transaction volumes, coupled with the accelerated decline in yields in logistics / light industrial properties in CEE markets, was evident in our portfolio in the third quarter. This broader market trend will have a substantial positive effect on our valuation, which is to be expected, given that CTP is the largest investor / operator in this real estate sector in the region. it is only at the end of December that the current significant evidence of prices is such that we can provide guidance on the direction of reporting from our external capital market appraisers. "
CTP ranks in the top five industrial property developers in Europe and is the largest developer of industrial and logistics parks in Central and Eastern Europe, owning over 6.6 million m² of logistics space and operating in nine countries in the region.
The company aims to expand its property portfolio by up to 10 million m² by 2023.
With its entire BREEAM-certified portfolio, CTP aims to reach the position of the most sustainable developer in the region and will achieve the goal of reducing its carbon footprint by the end of 2021. From the end of March this year, CTP is listed on EURONEXT Amsterdam.
In Romania, CTP is the largest developer and administrator of logistics and industrial spaces of class A, with over 1,900,000 sq m of leasable area located in 13 cities: Arad, Brașov, Bucharest, Cluj-Napoca, Deva, Pitești, Sibiu, Timișoara , Turda, Ineu, Salonta, Oradea and Craiova.