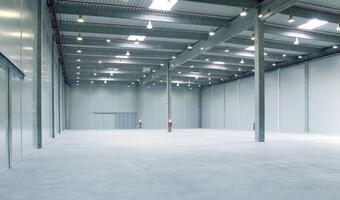 Bucharest attracted most of the demand for industrial and logistic spaces in the country, namely 43% (about 103,600 square meters), followed by Slatina (62,000 square meters), Oradea (34,000 square meters) and Timisoara, with almost 22,300 square meters traded.
JLL recorded in the first semester a market share of almost 30% of the volume of industrial and logistics lease transactions by real estate consultants.
Given the developments in the first half of the year, JLL's expectations for 2019 demand are optimistic, so we expect a volume of transactions comparable to the one recorded over the past 3 years, around 500,000 square meters per year.
"But we have to take into account two aspects. The first is that the industrial market has reported a record demand over the last three years, especially amid the expansion of retailers and logistics. The second element is the fact that most of the logistics companies have already consolidated their operations to respond to the increased volume of goods generated by the rise in consumption in recent years", said Costin Bănică, Head of Industrial Department JLL Romania.
However, we may see an increase in demand for manufacturing and industrial premises, especially from companies active in the automotive sector.
Noteworthy that over the first half, more than half of the demand (121,600 square meters) came from manufacturing companies, most of them in the automotive field.
"Some companies in the automotive sector are experiencing a transition period towards the production of components for electric cars. Romania could take advantage of this transition and could attract major investments from big companies for this kind of production capacities. In this context, we anticipate an increase in the demand for production areas in 2020-2022", added Costin Banica.
Another trend that we have seen on the market this year and which generates a part of demand is the migration of companies from the spaces they occupy in locations within former industrial platforms in modern projects.
"We are seeing a growing interest from developers to offer smaller areas of 1,500-3,000 square meters, in an effort to accommodate the growing demand from companies moving their work from old industrial platforms to modern industrial projects. This migration is based, on the one hand, on the desire of companies to provide employees with better working conditions and, on the other hand, is determined by the stricter regulations related to the fire safety authorization", added Costin Banica , Head of Industrial Department JLL Romania. (source: JLL)