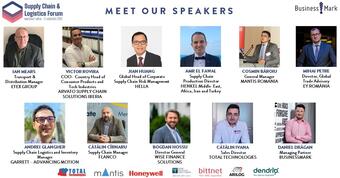 Together, we will look for answers to key topics for specialists in the field, such as: specific challenges of online trade at the supply chain and logistics level; adapting supply chain and logistics processes to times of accelerated sales growth; aligning marketing with logistics in e-commerce; intelligent solutions in terms of demand forecasting, inventory, warehousing and distribution strategies, return logistics, cross-border e-commerce challenges, integration of technological solutions; IoT, Big data, omnichannel, asset sharing economy, cloud, robots, automation and digitization; opportunities, solutions and challenges for modern integration and monitoring of the supply chain; industry-specific funding opportunities; team motivation and operational performance.
The speakers of the event are:
VICTOR ROVIRA
, Chief Operating Officer – Country Head of Consumer Products and Tech Industries, Arvato Supply Chain Solutions Iberia;
AMR EL FAWAL
, Supply Chain Production Director, Henkel Middle-East, Africa, Iran, and Turkey;
JIAN HUANG
, Global Head of Corporate Supply Chain Risk Management, HELLA;
IAN MEARS
, Transport & Distribution Manager, Etex Group;
COSMIN BĂROIU
, General Manager, Mantis Romania;
CĂTĂLIN CÎRNARU
, Supply Chain Manager, Flanco Romania;
CĂTĂLIN IVANA
, Sales Director, Total Technologies;
BOGDAN HOSSU
, Director General, Wise Finance Solutions;
ANDREI GLANGHER
, Supply Chain Logistics and Inventory Manager, Garrett - Advancing Motion.
The event will be moderated by:
MIHAI PETRE
, Director, Global Trade Advisory, EY Romania;
COSMIN BĂROIU
, General Manager, Mantis Romania;
DANIEL DRĂGAN
, Managing Partner, BusinessMark.
The event targets: General Managers, Operations Managers, CFOs, Planning, Procurement, Warehouse Managers, Distribution, Transportation Coordinators, Logistics Managers, Supply Chain Managers, Import-Export Managers, Sales and Sales Managers.
Participation in the event is free, but prior registration is required HERE. For more information, please contact the event organizer at [email protected].
Mark your B2B opportunitytogether with BusinessMark!
Event organized by BusinessMark, supported by: Total Technologies, Mantis, Honeywell, Wise Finance Solutions, Bittnet Group și Arilog
Technology Partner: Dendrio
Official radio of the event: Europa FM
Media Partners: depozitinfo.ro, Ziarul Bursa, DeBizz, Transilvania Business, Tranzit, Revista Piața, Energynomics, birouinfo.ro, 1001m2.ro, administratie.ro, Global Manager, Clujul de Buzunar, Financial Market, Jurnalul de Afaceri, Top Business.
BusinessMark is a company that offers integrated B2B services. The main line of activity of BusinessMark is the organization of business events "own concept" through which it aims to offer the Romanian business environment a professional space for discussions and networking. Combining communication methods and business matchmaking, it offers its partners complex development models, connecting them directly with the business environment and creating strategic partnership opportunities. (source: BusinessMark)