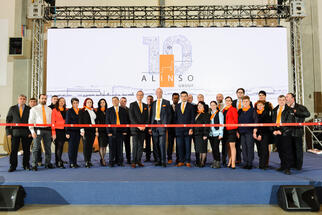 The investor, the owner of the largest industrial park in Romania, is also negotiating the acquisition of land for new industrial parks.
"After the fantastic industrial development and the experience with Ploiesti West Park, it is natural to expand our presence in Romania and, in this context, we follow the needs of the markets. Given the rapid development of the Romanian service sector, it is logical to have office developments as well, "said Ivan Lokere, CEO of Alinso Group, exclusively for Profit.ro.
The company has already analyzed some opportunities for the acquisition of functional office buildings in Bucharest, according to Profit.ro. At the end of last year, Alinso bought the Axxes Business Park office in Gent, marking the entrance on this real estate sector of the company specialized in the development of industrial-logistics space.
At this moment, Alinso is also negotiating and acquiring land in several Romanian locations, mainly in the Bucharest area and in Cluj, for the development of industrial parks according to the Ploiesti model. The lots have a few hectares and offer the possibility of expansion.
In Ploieşti West Park in Ariceşti Rahtivani has so far expanded about 500,000 square meters of buildings, especially industrial, of which 275,000 square meters are owned by Alinso and the rest were developed by the end investors in the park like Timken, Lufkin / General Electric, Dekomte, Coficab, or Mitliv.
The Danish Rockwool Group, the world's largest producer of basalt mineral wool, has begun last year to build its first plant in Romania on a 30-hectares plot of land purchased from Alinso in Ploiesti West Park, an investment of 50 million euros , which includes the cost of land acquisition, buildings, equipment, and staff training. The industrial park also has 100 hectares of land for expansion.
"In recent years, we have seen an increase in demand for production facilities. As a result of the strong demand we have in Ploiesti West Park, we are currently developing additional buildings to meet this demand. The buildings are designed for light production but can serve a variety of tenants. It is important to keep a significant portfolio of land in Ploiesti West Park to allow us to meet our clients' growth plans in the park", said Ivan Lokere. (Source: profit.ro)