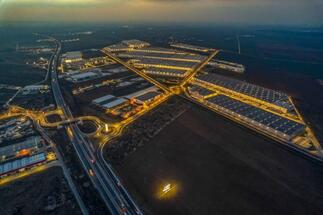 Maersk and IB Cargo operate in CTPark Bucharest West the regional distribution center of one of the largest furniture retailers in the world, the company's products being delivered from Bucharest to stores in Southeast Europe and the Eastern Mediterranean.
Maersk entered on the Romanian market in 2021, with the distribution center operated in partnership with IB Cargo and located in CTPark Bucharest West, in west of Bucharest, on the A1 Highway at km 23. As the business developed, the spaced leased in CTPark Bucharest West increased with over 30%, reaching now a total surface of approximately 100,000 sqm.

CTPark Bucharest West, planned to become the largest industrial park in Europe, also continued to develop. In less than two years, the built-up area has increased with more than 100,000 sq m, overpassing 770,000 sqm and another 160,000 sq m are now under construction. CTPark Bucharest West thus approaches the threshold of one million square meters, consolidating its position as the largest industrial park in Romania, which also offers the best quality of life for warehouse employees.
"We are growing together with our residents. The recent expansion of our partners Maers and IB Cargo proves that we can respond not only to the set-up operations, but also to those of further growth, which is extremely important in terms of cost management for logistics", said Ana Dumitrache, Managing Director, CTP Romania.

Maersk and IB Cargo operate the largest warehouse in Romania for a major furniture retailer, which is also the largest operation of logistics service providers in this part of the world and deserves Eastern Europe, the Balkans, the Middle East and Turkey from one location, CTPark Bucharest West. Initially the distribution capacity of the center was over 100,000 pallets and the daily volume of operations was 70 trucks/day.
"We are very proud of this project and especially regarding the way it has evolved and grown over the last two years, in line with our development strategy and our plan to increase our coverage in the Southeast of Europe. We share the same values with our partners and value the transparency in business, which has also contributed to the repetead expansions in CTPark Bucharest West, our total capacity reaching now 102,000 sqm", stated Eusebiu Dumitrescu, Site Manager Maersk Romania.

CTPark Bucharest West offers the highest quality services to its residents and hosts more than 2,000 employees who work for the companies in the park. Among the services offered are: medical point, canteen, cafe and relaxation areas, all located in a sustainable multifunctional space, called Clubhaus, which also functions as a platform for training sessions, with an amphitheater and meeting rooms available for tenants and their employees.
CTP owns a portfolio of approximately 2.5 million sq m of class A warehouses in multiple cities in Romania, including: Arad, Brașov, Bucharest, Oradea, Sibiu and Timisoara.