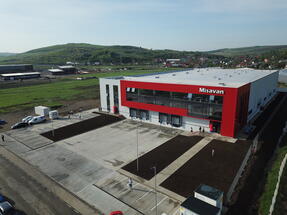 The total investment in the logistics warehouse was 7 million euros, an amount that includes its construction, technological equipment and stocks.
The project, which began in June 2020, covers an area of 5,000 square meters and includes, in addition to the storage and logistics area, an office area for Misavan. The maximum dense storage capacity is approximately 4,800 pallet seats. The warehouse serves all 12 company subsidiaries across the country.
"The logistics warehouse started operating in March, which helped us to improve the process and delivery times of the products. The last phase of the project, completed this month, was the office area, which also meant moving the company's headquarters from Voinești to Miroslava. Our strategy is to be as close as possible to the customers, serving them as quickly as possible ", said Ciprian Otea, general manager of Misavan.