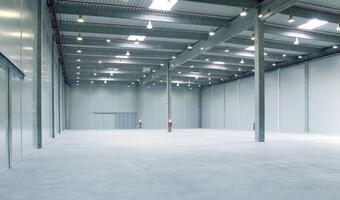 Despite the pandemic, 2020 was a better year by 37.93% in terms of traded industrial spaces than 2019 (with 475,000 square meters).
Q1 and Q3 were also declining in 2020 and 2019 compared to Q2 and Q4. We can associate this fact with the month of January, the transition, the slow beginning of the year, but also the months of holidays in July and August. Instead, we can see a clear increase in activity this summer, when employees gave up holidays altogether or shortened vacation periods. 117,510 sqm were signed in Q3 of 2020 vs. just over 60,000 sqm in 2019, Q3 being the weakest quarter of the pre-pandemic year.
The industries that were in the top of leased areas are FMCG - 38% of market share (boosted last year by the growth of online commerce), logistics (15% of transaction value) and retail (13% of all leased areas). Those in production and pharma followed.
Most of the contracts were signed in Bucharest, followed by Timisoara and Craiova, a surprise of the previous year.
The most active developers in relation to real estate agencies were WDP with 162,640 sqm brokered for its warehouses, followed very closely in the top by CTP (154,044 sqm) and P3 (133,450 sqm).
"In March, Europe entered a freezing zone, with the lockdown in several capitals. 2020 seemed like an economic compromised year, but it was an advantageous year in terms of industrial transactions. The market experienced a tremendous growth of almost 40% and, to our delight, most transactions (52%) consisted of new contracts, followed by renewals or renegotiations of contracts and pre-leases. it's a great signal for FMCG and retail manufacturers and distributors in the first place!", says Marian Orzu, Managing Partner of Dunwell Industrial Brokerage.
The over 650,000 sq m traded translate into 84 contracts signed throughout the country by all agencies. Dunwell Industrial Brokerage ranks first in the number of signed contracts, with 19 new tenants brought to storage facilities suitable for their activities.