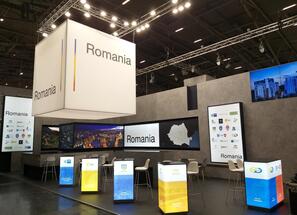 The fair, this year at the 22nd edition, represents for AHK Romania's co-exhibitors an excellent opportunity to meet and interact with over 45,000 participants from 72 countries, being a pendant of international networking, large-scale projects, of cross-border investments and financing. Here all the links of the value chain in the field come together - from project developers, investors and financers, to economic regions and cities - transforming the exhibition into a unique event on the international market.
Of the three Romania' stands with the coordinates A1.234, A1.241 and A1.242, the following representatives of the local authorities are in search of investors interested in locations in our country: Ilfov County Council (stand A1.241), Sector 5 Bucharest (stand A1.242), Suceava County Council, Brașov Municipality, Iași City, Constanța City and Port and Center for Regional Development Agency (stand A1.234).
Co-exhibitors from the private economic environment, having as core activities the development of commercial, residential, industrial parks, integrated logistics services, respectively civil and industrial constructions and legal consulting, are: AFI Europe, Alma Consulting, Danina Star, Industrial Element, Estoria City, Geiger Romania, Impact Developer & Contractor, Lion's Head Investments, REC Partners, Stratulat Albulescu and WDP Romania (stand A1.234).
As in previous years, Romania will be present in the program of the specialized conference fair, which brings together over 400 experts, with the conference "Romania in the foreground. Market opportunities: review and trends that shape the market of industrial and commercial properties", dedicated to promoting the competitive advantages of Romania. It will take place on October 7, at 5:00 pm, in the area of Discussion & Networking Forum, Hall A1. The invited speakers are: Dana Bordei, Commercial Manager WDP Development Romania; Lori Collin, Director Romania Lion's Head Management; Michael Heller, Lead Analyst for Real Estate Research; Bernd Himmler, Head of Property Portfolio Manager CEE & Head of Project Development S IMMO and moderator, Andreas Schiller, Chief Editor of SPH Newsletter and Schiller Publishing House. (source: AHK Romania)