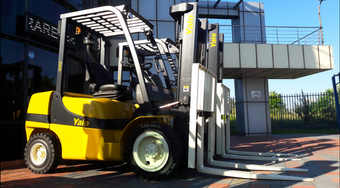 Although, initially, Vectra sells only traction batteries for electric forklifts, produced by Energia Bulgaria, gradually the product portfolio has diversified, the company adding to the object of activity the sale of spare parts for forklifts. In 1999 Vectra took a new step in the development of its portfolio of activities, becoming a national distributor for Balkancar Record Plovdiv forklifts.
Since 2000, the range of products sold has expanded with VENI @ Co Sofia storage equipment, Om Pimespo Carrelli Elevatori Italia forklifts, and from 2010 until the end of 2014 Vectra Eurolift Service was the exclusive dealer in Romania of Nissan lifting equipment Forklift Europe BV.
The beginning of 2015 brought a major change in the company's portfolio, Vectra becoming the exclusive dealer in Romania of the Yale forklift brand, one of the most important manufacturers of forklifts worldwide. The appointment of Vectra Eurolift Service as an exclusive dealer in sales and service strengthens Yale's position as an increasingly important brand in the European goods handling equipment market. With Yale's wide range of forklifts and storage equipment at your disposal, Vectra Eurolift Service can now offer solutions for the most diverse customer requests and the most complex applications.
Vectra Eurolift Service offers a full range of products and services in the field of lifting and handling equipment:
• Sales of new and used equipment, from stock or to order;
• Consultancy in order to identify the optimal logistics solution, depending on the specifics of the industry;
• Short-term equipment rental, with or without operator;
• Medium and long term equipment rental, in full rental system with full service;
• Sales of traction batteries, rectifiers, multibrand spare parts, forklift tires, forks and special attachments for handling goods;
• Forklift repairs, overhauls and maintenance:
- 18 field technicians
- 12 technicians in the repair shop in Bucharest
- Multibrand service
- Working points: Bucharest, Roman, Brașov, Cluj, Timișoara, Sibiu
• RSVTI services;
• 3 car platforms for transporting lifting equipment;
• Used equipment buy-back services.

Regarding the company's staff, their qualification is very important, and the motto that characterizes them in carrying out the activity is: "promptness, efficiency and seriousness". Staff recruitment is based on recommendations and it is preferred to train each specialist within the company. The company has almost 80 employees, many of whom have been working for the company since its inception.
At the end of 2019, Vectra had a market share of 6% and a turnover of almost 14 million euros.