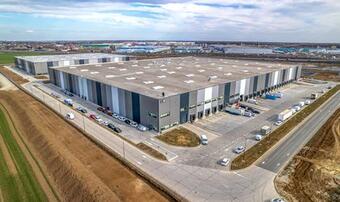 The space will be used by Alaska Energies for its expanding logistics operat The space will be used by Alaska Energies for its expanding logistics operations, in order to storage and distribute its market-leading renewable energy products: photovoltaic solar panels and systems, support structure, accessories.

VGP Park Bucharest North is located in the northern part of Bucharest. Positioned exactly at the intersection of the A3 motorway with the Bucharest ring road and having direct access to both, the park is located ideally for ensuring direct fast access to the city centre as well as perfect connection for distribution around Bucharest and north-bound via A3 motorway towards Ploiesti & Brasov. The site's location, in addition to the labour availability in this part of Bucharest, makes it ideal for companies active in the logistics, e-commerce and retail industries, being a perfect site with direct access to the city centre for last-mile distribution. The building that hosts this new tenant is certified by the BREEAM valuation methodology with a Very Good classification.
"We are very proud to welcome Alaska Energies to our VGP Park Bucharest North and offer them a warehouse premises that meets the highest standards of quality and sustainability. Alaska is operating in one of the fastest growing business segments in Romania and we are pleased to be able to ensure that the client meets all its needs in a top location", stated Claudia Petre, Leasing Officer, VGP Romania.
"The transfer of operations to larger and more complex premises is a natural move in the development of our company. The last years have brought us constant increases in turnover, a clear proof of the fact that the Romanian market appreciates both the products and the related services offered by Alaska Energies specialists. Europe obviously is on a transition towards green energy, and we are glad to be able to support this initiative in Romania too", says Matei Neagu, Commercial Manager, Alaska Energies Romania.

"I would like to congratulate Alaska Energies and VGP for this new partnership. We are proud to be part of a transaction where both landlord and tenant have a similar practical view on sustainability", added Emilian Podaru, Crosspoint Real Estate.

Crosspoint Real Estate was the advisor during the leasing process.