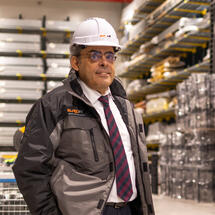 How was your company born? What was the context of the market then?
Spiros Mallioglou: In 1999 when Mr. Voyatzoglou decided to open a branch in Romania, it was simply a matter of instinct as a businessman, attentive not only to what is happening in the company he founded, but also to the Romanian business environment, which could hardly have been anticipated 22 years ago.
There was no market at the time, and investments in logistics were sporadic. All foreign investors at that time came with SH equipment from the parent investment firm or from well-known suppliers in their country.
At the "Commercial Space Equipment" Business Unit, there were only the big brands on the market. The only local brand was MEGA IMAGE, which has been our KA (Key Account) customer for 22 years.
At the "Trade" Business Unit, we were the first in the market to use the DIY (Do It Yourself) concept, which is our trademark, a trademark registered with OSIM since 2000.

What do you think are the most important changes during this time (market in general, customer mentality, competition, etc.)? How has your company adapted to these?
SM: We started from scratch, or even from below zero, which means that what you see now is the result of adapting to the changes we have gone through through hard work, perseverance and confidence in our strengths. We went through hard days, but also beautiful days. Basically, the market developed with us and we adapted to the changes, this being a feature of the market.
Later, when the financial crisis of 2009 came, we decided to abolish the trade department. In this way we saved the whole company by quickly adapting to the new economic reality, having as main ally the experience gained.

What are the main components / brands of your business? What kind of services do you offer to your customers?
SM: We have the following solutions in our portfolio:
- Automated warehouses (from a simple conveyor, sorter, to industrial robots);
- Simple storage (from conventional shelving systems to complex storage systems with very high seismic or static loads), storage of atypical products, multi-level mezzanine storage, gravity shelving, archives and many other solutions, also anticipating future customer needs;
- Commercial spaces such as minimarket to hypermarket, pharmacies, toy or fashion stores. Over three decades of experience and development of know-how in the field, together with exclusive partnerships with leading international manufacturers, qualifies EUROFIT as the most reliable solution for planning, designing and furnishing any type of commercial space.
In addition to the complex solutions we offer, we also make available to our customers the service department EUROFIT SIGMA - Service - Installation - Warranty - Maintenance - After-sales service, based on a new digital platform built exclusively by our IT specialists specifically to cover a high level of customer requirements, with the role of maximizing the availability of equipment and systems offered by EUROFIT, minimizing the time lost with the intervention performed.
Thus, we can offer services all over the country and abroad, that are very successful.

How would you describe in relevant figures the experience of your company on the Romanian market, from its launch until now?
SM: The experience has been gained through a continuous struggle for over 22 years. Every year, we receive over 6,000 requests from over 2,000 customers.
In 2021 we delivered:
- Over 50,000 pallet positions;
- Over 5000 m2 platform;
- Over 3800 m2 mezzanine shelves;
- Over 136km or 105,000 m2 of shelves for easy storage.

What are the most important services and facilities offered to customers looking for storage space?
SM: First of all, we offer, seriously and quickly, the service of moving the existing shelves of the client and we respect the promised execution time. We refer to turnkey solutions that include both transportation, wrapping, moving preparation, as well as needed materials and inventory.
We offer a study for the use of existing equipment from the customer's current warehouse to the new location.
We offer study and optimization for the new space, created from scratch according to the client's needs, from a simple concept to automated-robotic warehouses with high-performance equipment adapted to the times to come.

What is the maximum capacity of your warehouse?
SM: We have a warehouse of 3800 m2, of which a two-level platform of 400 m2, with a capacity of 2800 pallet positions and 71 linear meters of Cantilever shelves on 6 levels for the storage of products with long lengths (columns, sleepers, profiles , etc.).

Which market segment are you targeting? What is your current customer profile?
SM: We target 5 categories of customers:
I. Distributors;
II. 3PL companies;
III. Food and Non-Food Industry;
IV. Public institutions and archiving companies;
V. Key accounts.

How do your customers find you? Which is the most used approach?
SM: The vast majority of requests come from old customers, very satisfied with the products and services offered, which, in turn, recommend us to other potential customers.
What can you tell us about your team?
SM: Our team is constantly evolving to meet customer requirements. From customer care, salespeople, design engineers, architects, technicians, warehouse colleagues, to assembly teams, our people benefit from quality training that recommends them as excellent professionals.
Team features:
- Reaction speed;
- Execution speed;
- Repetition speed, concomitant with continuous adaptation and improvement speed.

What is your opinion about the current market of storage spaces in Romania?
SM: Currently, much of the market is still operating in old buildings, which do not allow modernization due to high costs. Therefore, some of these companies are moving to new buildings, purchased with the help of investors or with their own funds. We hope that we will also be able to benefit from part of the capital invested by the demand for automation of new storage spaces, ideal for the new logistics technology.

What is the secret to success in your business? Efficiency, quality of materials, price of services, etc.?
SM: Success is guaranteed if you strictly follow certain steps:
I. Seriousness (for 22 years we have been delivering what we promised, on time);
II. Speed (75% of deliveries are out of stock. We have our own experience, will and financial resources to have in stock the products requested by our customers);
III. Superior quality at a very competitive price. We collaborate with the best factories in Europe;
IV. After-sales service (we offer customer support even after the business relationship ends successfully. We have thousands of customers in our portfolio, which we take care of because they represent our future).

What are the latest trends in the integrated storage solutions industry in the international market? Are there certain products or types of services in trend?
SM: Logistics is an essential component of trade today. The customer is, day by day, more hurried, does not accept mistakes and is looking for the best price.
From this pressure from customers, and not from the pandemic, we have come to automation, industrial robots and mathematical algorithms to meet their requirements.
This is the new trend in Logistics: AUTOMATED WAREHOUSE.

How did you plan your company's next decade in the local market?
SM: We started 5 years ago to focus on new technology, to understand it well, to gain experience and to pass on to our customers the accumulated knowledge.
3 years ago we started planning the digitization of procedures and now we are implementing this plan. We have built the new after-sales service platform and invested in new CRM, WMS and ERP programs to be implemented in 2022. These investments will characterize our business over the next decade. Also, in the field of automation there can always be differences between design and reality, in terms of performance, so we had to buy real-time simulation software, very powerful and expensive at the same time but with the help of which we know 100 % if the systems proposed to our customers will achieve the desired performance.
Find more details about the company on https://www.eurofit.ro.