What was the context for the development of your property in the area?
There is demand in the market and we are already seeing numerous companies relocating or choosing to be situated elsewhere then Km13-23 (Bucharest-Pitesti), as workers and people prefer to be situated closer to "home".
We are already seeing large developments coming up in the North-West of the Ring, towards Chitila, where major players are developing.
The N.G.B Distribution Center is therefore ideally located 9km SW from the city centre of Bucharest between Soseaua Alexandria and the Domnesti Crossing. It has direct ring road access (700m opening) and high visibility, as well as industrial level utilities.
What is the total area of the project and relevant areas? Do you also have an office component within the park?
The park has a total land surface of 15Ha (150,000m2). Upon completion, the park will have a TBA of +55,000m2 of warehouses and +5,000m2 of offices. We are currently developing the D4 (12,000m2) and D5 (6,000m2) buildings, which should be complete by Qt1. 2020.
What was the total investment for this project?
N.G.B Distribution Center will require a total investment of over EUR 20 million + VAT.
What are the most important features offered by the property to its clients?
We are a family business and are more concerned with finding the right tenant/partner rather than just signing any surface.
We offer additional support services to help our clients - Design and Fit-Out Solutions, Financing Solutions (for equipment/shelves), HR Services, Facility Management Services, IT Solutions and more…
The park has industrial level utilities (gas, water, electricity) and a 3km private railway line if a client has such a need. Upon completion of the D4 and D5 warehouses, we will then offer - sleeping quarters (for employees), a canteen and minimarket, green areas, a fitness center and other facilities for our clients and their employees. The site also has large parking areas for CARS and TIRS.
The area offers available workforce from Bucharest, Bragadiru, Domnesti and other neighbouring towns and villages.
Which market segment addresses your company?
The complex is ideal for small to large logistics, distribution, IT&Ecommerce and production companies looking to service Bucharest and the neighboring areas. Currently we have a mix of production and distribution companies on site.
What is the current vacancy rate of the project?
Currently, we have leased 100% of our existing units to clients ranging between 1,000m2 - 10,000m2.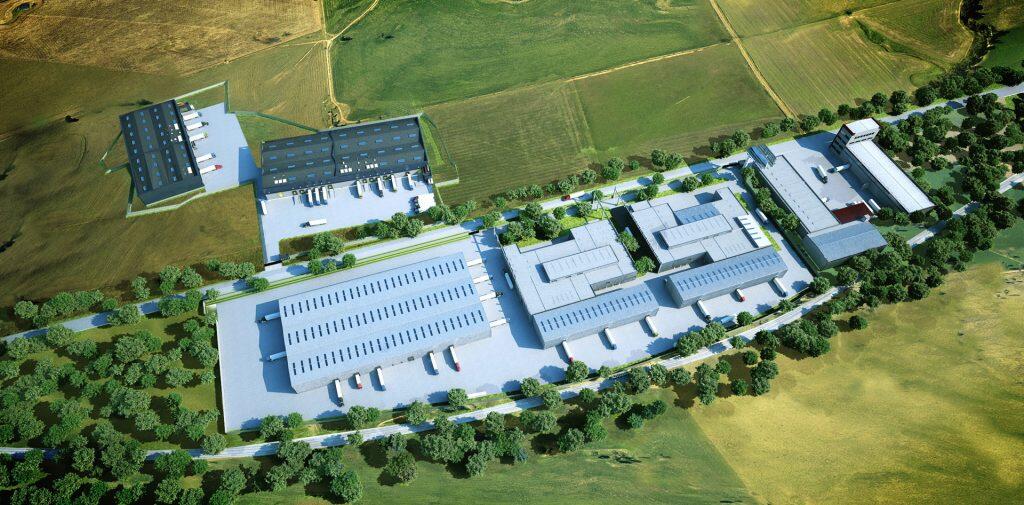 Are you planning an extension / diversification of services provided within your park? Would potential clients find available spaces in your park in the near future?
As I have mentioned, Currently N.G.B is completing the project's next phase, its D4 Building (12,000m2) and its D5 Building (6,000m2) which will be ready and for rent as of Qt. 1, 2020. Construction is almost complete.
Upon completion of the above two units, we will begin the permitting process for the next phase - the D6-D7 Buildings which will include a total area of +20,000m2 of new warehouses.
Which market segment addresses your company?
Our goal is to attract tenants ranging from 1,000m2-10,000m2, as our buildings and design allow for various partitioning options. Client profile's range between Logistics, Distribution, Retail and Production Companies. Our site can accommodate one or all types of profiles.
Do you develop speculatively or rather BTS projects?
Our strategy is always to develop speculatively a minimum amount of warehouse space - to have ready on the market in case of an immediate request. But of course, we also welcome BTS projects as well.
What are your plans for the future?
Our current plan is to complete and lease the upcoming buildings of D4 & D5. Our goal is to have our buildings up and running as soon as possible, offer competitive terms and additional support services. Upon completion we will look to develop the remaining 2 building in the project; D6 (12,000m2) and D7 (12,000m2), which are situated across the street.
Outside of the N.G.B Distribution Center, we will look in 2020 to start the PL Distribution Center, located in Popesti-Leordeni, next to PepsiCo. The site will allow for a 12,000m2 warehouse and we see demand growing in the area. We have begun developing our properties in Agigiea, Constanta as well in 2019, and we hope to develop a minimum of 10,000m2 next to the port in the coming years.
As of next year, we will look to start the development of other properties we own in the residential and commercial sector in Bucharest and Constanta.