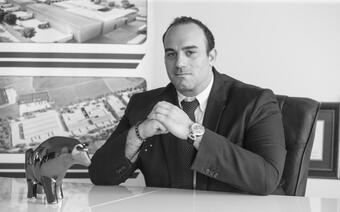 What is the current stage of the NGB Distribution Center project?
We have completed D1 (6,100sqm), D2 (3,000sqm), D3 (3,000sqm) and 60% of D4 (12,000sqm), D5 (5,500sqm). We plan to complete in the next months the remaining of D4 (5,000sqm).
Could you tell us what are the companies currently choosing your center for their business address? What are the key tenants of NGB Distribution Center?
Every building we have developed within NGB Distribution Center is fully leased – with 100% occupancy to-date with reputable companies and industry leaders, such as: ULMA, SAMEDAY, DPD, ALTEXPRESS, Hamburger Recycling, GEO2000 and others.
What are, in your opinion, the attributes that make of NGB Distribution Center a successful project?
The NGB Distribution Center is located 9km SW from the city center, between Sos. Alexandria and the Domnesti Crossing. It has +700m and +200m opening on both sides of the ring road providing high visibility and several access points. The construction of the ring road and the new Domnesti crossing/bridge are almost completed which will reduce traffic in the area significantly and add value to our park.
The site benefits from industrial level utilities (gas, water, electricity) and every building is ISU certified. The complex also has (If needed) +3km of private railway and terminal.
Moreover, large land for future development or BTS options are available at the site.
Last but not least, available and qualified workforce in the area has been an important factor - due to the strong development of South Bucharest and neighboring towns such as Domnesti, Bragadiru, Clinceni and Magurele. Companies are able to hire and find workers able and willing in area.
What are your future plans for the NGB Distribution Center – Bragadiru?
In the next 6-10 months, we hope to complete and lease the next 5,000sqm of the D4 Building.
We are also in the beginning process of permitting the next phase of the project, which is located across the ring road for a TBA 25,000sqm of A-Class warehouses and +2,500sqm of offices. This will give NGB a TBA of 55,000sqm of modern A-Class warehouses and +5,000sqm of offices to service Bucharest.
The changes that the pandemic of SARS-COV-2 brought over the last two years had impacted a lot of companies and real estate developers and owners. How difficult was this period for NGB?
NGB established some procedures in our offices for our team to follow – similar to what many companies have done as well.
Most management, operational, financial and commercial meetings are conducted by video conference calls such as Zoom or Teams. Most of the staff are able and still work from home. Our on-site personnel follow specific protocols that were provided to us by health organizations (wearing masks in face to face meetings, gloves, sanitizer stations all over the office building and distances of +2m between individuals). We did not stop working during this period as we were in the middle of construction to deliver to our clients.
What are the future plans of NGB in Romania? Do you have plans for new real estate developments?
Yes, we have some developments planned for the coming years.
We have begun the permitting process for our project in Popesti-Leordeni, a 12,000sqm warehouse project.
We have almost completed the construction of phase 1 of our residential project in Constanta, which comprises 100 small apartment studios near the port of Constanta with sea views. The entire size of the project could reach +70,000sqm of apartment units in several phases, including some retail space.
We are also permitting now a 6Ha residential complex in Corbeanca, next to Paradisul Verde, with the purpose of developing +100 modern and efficient villas with lots of green areas and facilities.
What are, in your opinion, the regions in Romania with potential for development, which are ideal for the industrial real estate sector?
Towns and cities that have available workforce and infrastructure are important.
Bucharest will always remain the main market/city. Ploiesti City is a good alternative to Bucharest in terms of land price, workforce, highway and proximity to Bucharest. I Would not be surprised to see more development there in the near future. Cluj, Craiova, Constanta could be strong alternatives as well. All depends on distances, workforce availability, utilities and other factors.
We are also seeing a new trend of small and medium industrial parks being developed offering small units between 400-600sqm to the market.
We must bear in mind that the cost of construction is going up, workforce costs are increasing – the rental market needs to understand and follow as well.
We know that, outside of your company NGB, you are also personally focusing on other projects, could you detail this information, please?
Yes, that is correct. NGB is the real estate division of our group in Romania.
We also operate AGREMIN in Romania, a company that supplies the road and railway industry with aggregates and other building materials. We operate quarries throughout the country.
I am also a partner in KNIGHTBRIDGE INTERNATIONAL, a new consultancy company specialized in providing services for the real estate industry and heavy industry. We provide the following services: Project Management, Cost Management, Construction Management, IT, Architecture & Engineering (permitting included) and Business development and brokerage services. Industries we focus on are: Automotive, Infrastructure, Mining, Transport and Logistics, Energy and Renewables and Real Estate. Through this company, we offer tailored made solutions or turn-key projects for our clients.
Another project launched this year with my partners, is PADAHU (www.padahu.com), a new online bidding platform which connects expeditors, transporters, and forwarders in a single exchange market.
This platform is ideal for small or large companies looking for transport solutions or companies looking for new hauls to transport. It is already present in Romania, Bulgaria and Greece.