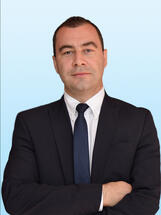 Since January, Madalin has joined Colliers International's industrial and logistics division, aiming to develop services for companies interested in trading properties on the industrial market.
"After 2016 we said that the industrial market has all the premises to develop in the next few years, 2017 and 2018 have brought a 40% increase in the stock of modern spaces to 4.2 million square meters. We still see expansion potential, especially for regional cities that are real economic nodes, such as Constanta, Iasi or Ploiesti", said Laurentiu Duica, director of Industrial Agency at Colliers International.
"At the same time, we notice a growing appetite from developers who traditionally work in other market segments, such as offices, residential or retail, but who also want to invest in the industrial sector. In this context, the expansion of the industrial team with a specialist in the investment market came as a natural step in order to offer our clients real estate solutions as complete as possible", added Laurentiu Duică.
During the last two years, Mădălin Stănescu worked as Senior Project Manager in Colliers International's investment department, where he has coordinated the development of a new service, portfolio transactions management, succeeding in finishing over 30 transactions in less than two years.
Earlier, Madalin worked for ten years in the financial sector, within RBS Bank's real estate finance department and BCR real estate asset management.
In the past year, Colliers International has advised one of the largest and most complex transactions in the industrial market for an active client on the retail market. The Polish retailer LPP, which brought to Romania the brands Reserved, Sinsay, Mohito, Cropp and House, rented an area of 22,100 square meters in a project developed by the Belgian company WDP in Stefanesti de Jos, Ilfov County. Here, the Belgian developer WDP has bought a 44-hectare plot in a transaction brokered by the Colliers International industrial department.
At national level, even if the stock of modern storage space exceeded the 4.2 million sq m threshold, Romania continues to be behind the other countries in the region, suggesting that there is still room for growth. For 2019, over 400,000 square meters of industrial space are expected to be delivered in Romania. (source: Colliers)