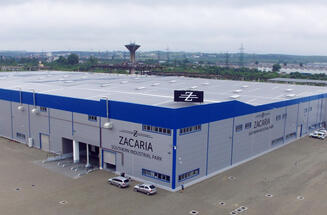 Construction materials distribution company MaxBau is expanding its operations in the south of the country, with a new warehouse located in Southern Industrial Park. It will take over the new space by the end of the third quarter.
Following this transaction, the occupancy rate of the two buildings in Southern Industrial Park, with a total area of 40,000 square meters, reaches 95%, the only space left available for rent with an area of 1,800 square meters.
"We are very pleased that Southern Industrial Park has evolved from an idea to one of the most successful projects in our portfolio and to one of the most successful development projects in Craiova. We continue to focus to better serve existing customers and, at the same time, we focus on starting work on the third Class A industrial building in the park", said Marius Moga, Sales & Marketing Manager of Zacaria. This last building in the industrial park in Craiova will have an area of over 13,000 square meters and is designed to house companies in the logistics or production sector.
Southern Industrial Park, located on Henry Ford Street, acquired by Zacaria in 2015, was the first step in the company's expansion strategy in the southern part of the country. In the next period, the company intends to develop its first industrial and logistics project in Pitesti, but also a new one in Sibiu, where is also the headquarters of Zacaria. (source: Zacaria)