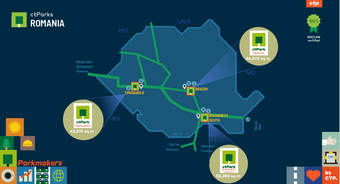 The transaction marks the beginning of a fruitful cooperation between CTP and the seller, Olympian Parks, in a swift and super quick M&A transaction, probably the largest of its kind in the local market this year.
Brasov, strategically situated in the middle of the country, is new on CTP Romania map, with 7 buildings, mostly rented, but also with available space for lease. Timisoara becomes now the second largest presence for CTP Romania, after Bucharest, by owning another industrial park with 5 buildings in the close vicinity of its CTPark Timisoara next to the airport in Ghiroda, also with space immediately available for lease.
"Our portfolio is closer now to the 2 million sq m milestone, while we are covering more of Romania through presence in Brasov. Timisoara add very nicely to what is to become shortly the largest CTPark in Romania outside Bucharest and its surroundings", said Ana Dumitrache, Country Manager, CTP Romania.
7 new tenants are entering the family of CTP clients as the rest of the inhabitants of acquired buildings are already having space leased in the group's local portfolio.
The acquired parks are all offering possibilities of development on buildable land adjacent to the buildings – perfectly matching CTP strategy of full flexibility for accommodating tenants' needs including the growth ones.
The transaction was structured and implemented by the CTP Romania transaction team led by Andreea Enescu, Head of Transactions, in record time, all made possible also by professional support from internal construction team led by Valentin Rosu on technical aspects and by excellent commercial and timely approach of CTP external legal partner, Theodor McCann.
During 2021, CTP has also purchased approximately 112,000 sqm of industrial spaces from Zacaria Industrial. Also, in 2020, the company carried out a series of similar transactions, including the acquisition of the A1 Business Park platform in Dragomirești Vale from Cromwell Property Group and that of the Equest Logistic Park industrial park, located on the A1 highway, near Bucharest, from Forum Serdika, being the most dynamic player on the industrial and logistics market.
Following this acquisition, CTP owns class A warehouses in 13 cities in Romania: Arad, Brasov, Bucharest, Cluj-Napoca, Craiova, Deva, Oradea Pitesti, Sibiu, Timisoara, Turda, Ineu and Salonta. In Central and Eastern Europe, the company is the largest developer of industrial and logistics parks with a portfolio of 6.6 million sqm which it aims to expand to 10 million sqm by 2023.