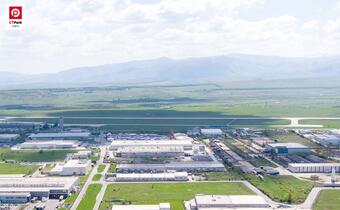 The park has a total area of 9 hectares and in the first stage 13,200 sqm of GLA is constructed. At present, only 2,600 sq m are available, the rest of the space being already leased to two companies. Upon completion of all the buildings in the park, the investment in its development will total about 23 million euros. This is the second investment of the CTP in Sibiu after the expansion of a factory completed last year, but it is the first A class logistics park with more tenants in the area.
CTP continues the growth process, and in 2019, after the beginning of the year, it has reached a historic threshold for the company's activity in Romania: 1 million square meters, built in 15 parks. Thus, at the beginning of the second semester of 2019, the developer will complete the construction of a 13,200 sq m, of which 10,600 sq m have been pre-leased. The spaces are built according to the highest quality standards of construction and energy efficiency that are standard CTP specifications, of excellent quality, unique on the market in Sibiu.
"Our customers need top-quality logistics spaces where they are established, so we have decided to offer our exceptional products to Sibiu as well. We have a very good location, where we build from scratch all the infrastructure of a modern logistic park. The park will have three buildings in total, and the first is already 80% leased to two customers which will move in this year. Sibiu Park will offer its tenants the same quality of CTP, enjoyed by customers in Bucharest, Brno, Prague or Budapest", said Ana Dumitrache, Country Head of CTP Romania.
The developer also owns a property in Sibiu County, CTPark Sibiu I, which was completed in the beginning of 2018 and has a total area of 13,400 sqm, rented by a car manufacturing company.
Both parks are strategically located in the western industrial area of Sibiu, near the airport and in the immediate vicinity of the A1 motorway, where there are many important players in the automotive, FMCG, IT, light industry, technology, research and development industries. (source: CTP)