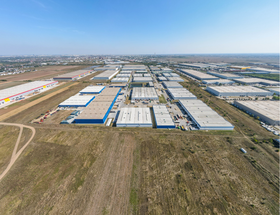 Through this acquisition, the company expands CTPark Bucharest, which reaches over 500,000 m2 for rent and thus becomes one of the largest logistics parks in the region, with over 100 active customers. This acquisition is in line with CTP's strategy to create business communities and parks with complex infrastructure, thus supporting residents' businesses.
The acquisition of the buildings previously owned by Cromwell Property Group has a strategic role for CTP. The 12 buildings located inside CTPark Bucharest are flexible and have spaces starting from 1,700 m2 and reaching over 10,000 m2, all to support a wide range of clients. These spaces complement the existing buildings, the existing customers strengthening the business community in this park.
"The Cromwell acquisition completes our portfolio at km 13 of the park on the A1 motorway. Our plan is to revmap the park so as to bring it up to CTP standards, through energy efficiency, taking into account the appearance of the buildings. It is worth mentioning that the Cromwell portfolio includes a multifunctional building, which is not operational now, but will be brought to life by the middle of next year. Here we will create a CTP Clubhouse with multiple functions - from restaurant and cafe, to fitness room and conference rooms, to support residents in attracting quality workforce and easy access to basic services and even entertainment", said Andreea Enescu, Transaction Manager CTP Romania, the orchestrator of this transaction.
The acquisition of the buildings in Cromwell's portfolio was mediated by the real estate agency JLL, through Silviana Petre Badea, Managing Director, who was actively involved in the management of the transaction.
CTPark Bucharest is strategically located on the logistics map of the country, with access to the A1 highway and 15 km from downtown Bucharest. Currently, the park offers more than 500,000 m2 for rent for over 100 companies in the e-commerce and logistics sectors.
CTPark Bucharest Facts:
• Total available space: 500,000 m2
• Planned for construction: 35,000 m2
• Total area: 100 ha
(source: CTP)