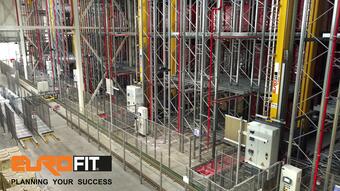 Automation is accessible for any warehouse.
Until recently, innovation in the warehouse automation industry came from the top players with endless resources invested in custom design solutions and implementing complete automations from the ground up. New technologies are still perceived as expensive and difficult to implement in existing operations. The reality today is that, cost-wise, they are significantly lower than they were a few years ago.
The challenge facing the warehouse robotics industry is to educate logistics companies about the automation solution and how such an investment could fit seamlessly into their existing ecosystem at low cost.
In some cases, governments will support the introduction of automation in companies' activities. For example, the UK government launched a program in 2021 that allows companies to apply for 130% capital funding for eligible investments in plant and machinery.
The process of automation has been accelerated by the surge in online shopping due to the pandemic-affected period, as online shopping has become a necessity. In addition, the development of return policies for products ordered online has created new pressures on picking and sorting activities, as well as the need to implement complex inventory management systems. The development of automated technologies has accelerated to meet this challenge.
China's dominance in this market is remarkable. In 2021, the country installed 268,200 robots, in a wide range of industries. 52% of all newly installed robots in 2021 were installed in China. Other leading countries include Japan with 49,900 annual installations, the United States with 33,300 annual installations and Germany with 20,500 annual installations.
The warehouse of the future is more efficient in meeting customer needs and, through the use of robots, safer for employees.
Experts predict that scalable automation processes will be implemented to achieve an increase in warehousing capacity that can keep up with the accelerated pace of e-commerce. Robots will be able to assist human work, rather than replace it, where necessary. Thus, warehouses will become a safer workplace, allowing workers to take on more technical roles overseeing automation systems. Upskilling workers is recommended as a future priority for the industry.
Several companies have begun to produce a variety of autonomous and automated storage and retrieval (AS/RS) systems.
With focus shifting from pallet and parcel picking to individual item picking, there has been an explosion in the market for AS/RS technologies designed to help with this adaptation of warehouse, distribution and manufacturing operations.
Advances in warehouse automation, along with increasing labor costs and decreasing cost of robotic solutions, have created a turning point for the logistics industry. Companies that don't have the capital investment to build a custom warehouse from scratch can invest in robotic solutions to improve their operations and efficiency. Thus, the automation industry designs and implements much-needed solutions that can be quickly integrate into existing operations and evolve to suit the changing needs of investors.
The type of technology companies choose depends on the operations required, warehouse size, and budget goals. Types of new technologies include:
- Autonomous Mobile Robots (AMR): Can move entire shelves to workstations/picking so that pickers can pick the required item. It moves independently using artificial intelligence and machine learning.
- Collaborative mobile robots: are flexible, safe and easily programmable, designed to assist employees in various warehousing activities that tend to be dynamic.
- Autonomous Cargo Handling Robots (ACRs): They are agile and easy to integrate into existing infrastructure and systems. They can store and retrieve multiple crates of product at the same time from narrow aisles.
Technology is evolving very quickly as robots can now pick, sort and transport stock in record time, even fragile products of different shapes and sizes. Warehouses are thus becoming smarter and more efficient as these solutions are put into practice in the 3PL logistics, e-commerce, fashion/apparel, automotive, retail, healthcare and electronics sectors.
Robotics companies and warehouse managers must work together to ease the transition to automated warehouses by engaging with workers, investors and new business prospects about the benefits of these systems.
For more details click here.