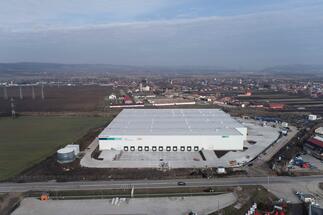 The multinational company will benefit of a quarter of the newly build edifice and will be able to start operations in the new space in the first quarter of 2023. This unit is part of a single roof project, totaling 18,000 sq. m of class A warehouse space. The city logistics park is located in a strategic area, right on the outskirts of Târgu Mureș city, providing exceptional connection to roads infrastructure primarily for logistics activities.
Proximity to the city area and to its production facility in Târgu Mureș are the key factors that determined FrieslandCampina to consolidate its activities within Mureș City Logistics, in Cristești.
"This partnership is in line with the sustainable growth of the company and we are optimistic that this new step in the development of the logistics area will contribute to the increased operational competitiveness of FrieslandCampina Romania. In the new modern and technologically advanced temperature-controlled logistics center, we are confident that all our daily activities will be carried out according to our standards and values, and the operational routes will be seamlessly integrated into the logistics chain. We want to thank the mayor of Cristești, Mrs. Edit Kovács, for her support in bringing this project to life and we are happy it will contribute to the wellbeing of Cristești inhabitants" said Ferenc Szecskó, CEO FrieslandCampina Romania.
"We welcome FrieslandCampina in our Globalworth Industrial community! We are glad to have a first tenant in Mureș City Logistics, a last mile project where we intended from the beginning to develop temperature-controlled units, a niche market with very good prospects", stated Mihai Zaharia, Globalworth Romania Head of Investments and Globalworth Group Capital Markets Director.
"The projects we develop, especially the customized ones in locations chosen either by us or by our clients, are calibrated based on the functions requested by our clients. The common values we share with FrieslandCampina – our mutual interest in implementation of sustainable solutions and focus on the growth of local communities – are the foundation of what we strongly believe is to become a long-term collaboration", stated Sorin Preda, CEO & Founder Global Vision.
Mureș City Logistics is the first project from a series of city logistics parks to be developed near major and secondary cities. Târgu Mureș thus becomes one of the key points on the map for the expansion of logistics and industrial projects.
Mureș City Logistics represents an investment of over 12 million euros and is located in a strategic location, along major national and international transport corridors. Due to the nearby access to the A3 highway (connection point currently being executed) and to the existing road infrastructure, the location provides ideal connection options with the west, the center of the country, and the Capital city. Proximity to the city ensures access to human resources and to public transportation.