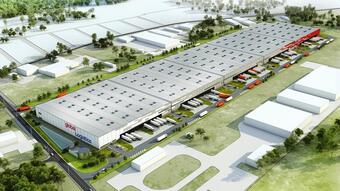 "We continue to notice the strong demand in the industrial and logistics sector. Our Global Logistics Timisoara (formerly Timisoara Airport Park) project in the West of the country has been very successful and is rented by renowned companies. Our strategy for the next period is still focusing on strengthening the leadership of the office market, but we also want to increase our presence on the logistics segment with new projects, starting with the expansion of Global Logistics Timisoara and the new investment from Chitila in partnership with Global Vision. These investments will be developed under the Global Logistics platform, which will encompass all industrial and logistics projects", said Dimitris Raptis, GlobalWorth CEO and Globalworth CIO.
Global Logistics Chitila is a "last mile" logistics project that will be built on a land of over 136,000 square meters. The development will take place in several phases, with the first 20,000 sqm of logistics space being scheduled for delivery in the first semester of next year. Access is excellent through the A1 motorway, the ring road of the capital and DN7, which facilitates a fast route to the central areas of Bucharest.
In October 2018, Globalworth started the expansion of the Global Logistics Timisoara project, which reached a 100% occupancy rate and recently completed the first phase of the project extension. Global Logistics Timisoara II offers the potential for expansion of 140,000 square meters and will be developed on a land of over 30 hectares. The first phase of the project, nearly 18,000 square meters, has already been completed and the company is in advanced negotiations for renting the delivered surface.
The Globalworth portfolio also includes the logistics project developed for Groupe Renault, which will also be renamed Global Logistics Piteşti. (sursa: economica.net)