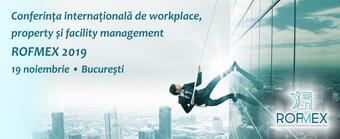 The event brings together corporate facility managers, directors and facility managers of compa-nies providing FM services, representatives of procurement departments, building owners and de-velopers, engineers, architects, public authorities, specialized press.

Having ENGIE as main partner and enjoying RICS support, the conference addresses the following topics:

• FM status. From the generational exchange to the opportunities offered by PropTech
• Smart operational FM. How to harmoniously combine technologies and people management to obtain quality services.
• Strategic Workplace & Facility Management. Necessity and opportunity for corporate facility managers and corporate real estate managers.

At the end of the conference, the panel discussion between owners and developers, property man-agers and facility managers will try to answer the question: Do we see the same opportunities and threats in the local workplace and facility management market?

International speakers confirming their presence include Jos Duchamps, Director at Global IFMA Board, Lara Paemen, IFMA Director EMEA, Paul Bagust, Global Property Stand-ards Director, RICS, UK, Yvet Brummelhuis and Sanne Anvelink, co-owner The World of YES, Netherlands, Eric Lamendour, Data Center Customer Segment & Offering Director, ENGIE, France, Al-exander Ath-anassoulas, CEO STIRIXIS Group, Greece, Tudor Marchiș, COO ESPL Embassy Group, India, Yishai Hatzir, Director of Development & Operation Step Hear, Israel, Attila Gorbai, Vice President Sales CEE & CSEE, TCS EMEA GmbH.
To these are added as Romanian speakers a constellation of top managers of some important players in the market such as Archibus, Avison Young, BSS, CBRE GWS, Coral Construct, Cush-man & Wakefield Echinox, Engie, Genpact, Globalworth, Mindspace, UTI.

Partners & Sponsors: Engie, ISS, RICS, Archibus Romania, Building Support Services, Tenrom, Wilo, Amber Technologies, Avison Young, Coral Construct, Facilitec Romania, MT&T Atalian, Nil-fisk, Recolamp, UTI Facility Management, OAR Bucharest, Bimtech, Tchibo, Dussmann Events & Catering, Translation house.
Details & event calendar, full list of speakers and registration: www.rofmex.ro