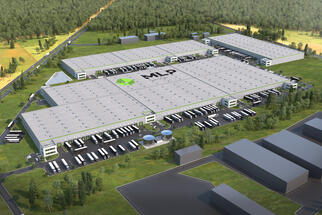 Marelvi Impex has signed a contract with MLP Group for the lease of over 8,400 m2 of modern space at the MLP Bucharest West logistics park. The leased space comprises 8,200 m2 of storage, service and technical facilities and 200 m2 of office and welfare areas. Once completed, the space will be delivered in June this year. JLL and Dunwell advised on the transaction.
The construction of the first facility at MLP Bucharest West commenced at the beginning of this year. The project has been built on a speculative basis. "The lease contract we have signed proves our projects attract leading players in Romania. Negotiations with other potential tenants are at an advanced stage. We are confident that the entire project will be commercialised before construction ends," noted Agnieszka Góźdź, Head of the Sales Department, Poland and Romania, at MLP Group S.A.
Marelvi was established in 1995 as a wholly Romanian-owned company. In 2000, it started distribution operations and became one of the largest distributors of household appliances and home electronics in Romania, with sales valued at EUR 56m. Marelvi is a partner of some major brands in the Romanian distribution industry. The portfolio of brands it represents at the national level includes Liebherr, Daewoo and Faber.
MLP Bucharest West is being developed in Romania's warehouse hub near the country's capital city. The work is now focused on the construction of a facility with a total area of 12,000 m2. Over 22,000 m2 of modern warehouse space will be delivered as part of phase one, with MLP Bucharest West to ultimately offer more than 95,000 m2 of space. The general contractor of the project is Sagex Construct, a company with extensive experience in warehouse construction.
The facility will meet green building standards, with plans to seek BREEM certification. It will be built to MLP Group standards, as class A warehouse with a net height of more than 10 meters and a floor load-bearing capacity of 6T/m2. The building will feature LED lighting, ESFR sprinkler system, gas heating, skylights and smoke flaps.
MLP Bucharest West is being developed in the north-western part of Bucharest, near Chitila, Ilfov county. The site provides direct access to the Bucharest ring road and is located between two European routes: E70 linking Timisoara with Bucharest and E60 linking Brasov with Bucharest. The Otopeni international airport is a 15 minute drive away and the city centre – about 25 minute drive away.
MLP Group is one of the leading developers, owners and asset managers of logistics and industrial parks as well as small-scale business parks in the core markets of Poland, Germany and Romania. The company, listed on the Warsaw Stock Exchange, operates a real estate portfolio with a total leasable area of more than 1 million sqm. With offices in Warsaw, Katowice, Munich, Dusseldorf and Bucharest, user-specific real estate solutions are offered to customers and tenants in the logistics, commerce, e-commerce, manufacturing sectors and the automotive industry.
The company operates twelve operational industrial parks in Poland, and has one park under construction, in Bucharest. With the operation and development of the 12.5 ha property in the MLP Unna Logistics Park, the expansion efforts in Germany are now gaining momentum. Further projects, which are already being planned, will be located in the regions of Berlin, the Ruhr area, in the Rhineland around Mönchengladbach, and in the Greater Munich area. (Source: MLP GRoup)