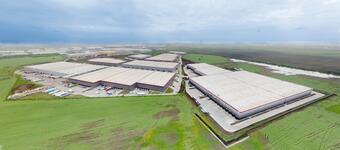 The first phase of the multifunctional project will include a hostel with a capacity of 212 people, a 200-seat canteen, a supermarket and a café. The project aims an expansion of accommodation capacity and the addition of new services for tenants according to their requests, including medical center, courier services, ATM and dry cleaning. The estimated end date of the first phase of the project is the end of September 2019.
"With an unemployment rate of 1.3%, the availability of workforce in Bucharest and in the surrounding areas becomes an increasingly acute limitation felt by our tenants as well. In order to cover the need for staff, some tenants carry their employees for long distances up to 100 km daily. In order to improve the labor force, we decided to develop this accommodation facility in P3 Bucharest A1 Park as a benefit for our current and future tenants. Tenants will be able to use the hostel to accommodate permanent employees to supplement their need for peak-time employees as well as other one-time accommodation needs (intervention teams, detachments from other locations). It is the first project of its kind in Bucharest and reflects the philosophy of P3 to offer the Tenant not only a warehouse, but a whole ecosystem to facilitate the development of their business", says Sînziana Pardhan, P3 Managing Director in Romania.
Each room in the hostel will have a maximum capacity of 3 beds and will be fully furnished and equipped: fridge, TV, air conditioning and wi-fi. The hostel operator is the Romanian company Real Design SRL, under the brand IQ Hostel, which has experience in personnel relocation at national level and HR services, managing over 5,000 people relocated for projects in Timisoara, Arad, Pitesti, Braşov, Oradea , Dej, Cluj, Sighisoara and Satu Mare.
"We are very excited and honored to be part of this unique project in Romania and we thank P3 for having trusted our relocation experience. This project is an innovative solution for the employers' needs to provide employees with optimal accommodation conditions, so that by reducing the time they get to work increases their satisfaction and efficiency. A satisfied employee can be dedicated even more efficiently. We are optimistic that we will have many requests", says Lucian Jantuan, Managing Partner, Real Design Romania.
"Every day, more than 4,000 employees come to work in P3 A1 Bucharest Park, equivalent to half of the Chiajna or Domnesti population, the neighboring communes. By building the multifunctional project we want to encourage the development of a true community within our park. Employees will have a supermarket and a canteen with a recreation area, and we will add other services in the future. Together with the multi-modal terminal, the multi-purpose project aims to reinforce the complex and unique package that tenants can find at P3 Bucharest A1 Park and serve more than 372,000 m2 of storage space", adds Sînziana Pardhan.
P3 Park Bucharest A1 is the largest multifunctional industrial park in Bucharest, with 372,000 m2 developed, including 14 warehouses, and land that allows the construction of another 100,000 m2 of spaces, with potential delivery within 6 months, direct access to A1, and direct connection to the pan-European corridor 4. P3 Logistic Parks acquired a 16 hectares plot of land in Dragomiresti Vale. A new logistics park of 80,000 m2 - which will be known as P3 Bucharest NW Ring Road - will be developed on this land from the second half of this year. P3 Bucharest NW Ring Road has direct access to Bucharest's new extended belt and offers quick access to all parts of the capital, as well as to the A1 and A3 motorways. (source: forbes.ro)