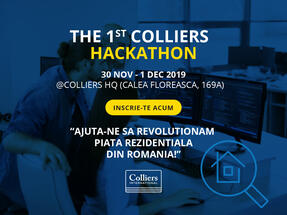 The Hackathon will take place from November 30 to December 1, at the Colliers Romania headquarters. For 24 hours, 50 developers and programmers will be challenged to bring functional solutions adapted to internal needs and processes, to work with information databases on the residential market and to help increase the degree of transparency and professionalism in the real estate market.
"The residential market in Romania is very dynamic, but there is room for improvement in as far as its transparency and standards are concerned. Colliers' mission is to accelerate the success of our clients, and innovation is very much of the secret we rely on. We work in an entrepreneurial spirit, based on curiosity, honesty, discipline, teamwork and thinking about a future where technology will make our lives better. We have many ideas for the real estate market in Romania and we are looking for local talents with the same values, with whom to translate these ideas into reality", Gabriel Blăniță, Senior Associate Valuation and Advisory Services at Colliers, said.
Freelancers, IT and technology start-ups and enthusiasts of concepts such as artificial intelligence, machine learning, microservices, web scraping and RPA are invited to join the Colliers Hackathon. They can register individually or in teams. Moreover, the creative process will be coordinated by a team of mentors and the solutions will be presented in front of a jury made up of the real estate market and business professionals and experienced programmers.
Participants in the first Hackathon Colliers will collaborate, learn and compete creatively, and the big winner of the event will receive a firm contract of collaboration with Colliers to implement technological solutions.
Those who wish to attend can register on the event's website https://hackathon.colliers.ro/ until November 27, 2019. Additional questions can be sent to the organizing team by email to ro.hackathon@colliers.com. (source: Colliers)