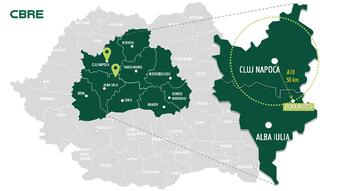 A land of 26 hectares, classified as industrial park, was put up for sale in Ocna Mureș, according to CBRE, the global and national leader of the real estate consulting market, which obtained an exclusive mandate for the development of the retail and industrial area.

The land is located in the north of Ocna Mureș, near the residential district Mălinului, on the site of the former Soda Factory in Ocna Mureș, Alba county. In close proximity of the land, the newest salt baths treatment facility is being built and will be completed by next year. Additionally, a recreational area is scheduled to be set up nearby.
"The future project in Ocna Mureș is an investment-competitive alternative to cities such as Turda, Cluj-Napoca or Târgu Mureș, considering its location, only 8 km away from the A10 motorway junction and about 50 km away from Cluj-Napoca, as well as the existing infrastructure and the utilities available", explained Valentin Popescu, senior consultant within the Land Development department of CBRE Romania.
The land comprises a total area of 26 ha and a for part of it, CBRE Romania negotiates with several food operators, since modern commerce in Ocna Mureș is currently poorly developed.

"The lack of a modern retail offer compells the inhabitants of the city and from the neighborhood to shop in Cluj, Turda and even in Alba Iulia. Ocna Mureș enjoys a specialized workforce, which is one of the assets of the project. Attracting an investment in the retail sector as well, will prevent the inhabitants from moving to other cities ", added Ion Dinu, senior consultant within the Land Development department of CBRE Romania.
Ion Dinu and Valentin Popescu joined the CBRE team in April, within the Land Development department, having a 15, respectively a 5 year - experience in developing projects in retail, food and industrial field. Enlarging the CBRE Land Development team is part of the company's strategy to provide investors and developers with an integrated product portfolio, implemented together with the retail department, and also with office and industrial space.

About one million square meters of land were traded on the Romanian market in the first half of 2019, only 33% of this area being located in Bucharest, according to the most recent CBRE Research report. Investors were mainly interested in land for industrial (49% of the traded area) and retail (45% of the total area) developments.
Nationally, in the first half of 2019, retail developers invested about 45 million euros in the purchase of a total area of 460,000 sqm, the most representative transaction being the acquisition by Auchan of a 220,000 sqm land in Reșița, Caraș Severin county.

One of the most important transactions with land in the first semester, in the industrial sector, is the acquisition of a 12ha area in Craiova, by the local company, Element Industrial. Furthermore, one of the prominent developers on the local market, VGP, chose in turn the connection with the A3 motorway, securing a 20ha land located near the junction of the Capital Ringroad with A3. According to CBRE Research data, additional land transactions for large industrial areas of more than 10 ha are expected to be completed by the end of the year. (source: CBRE)