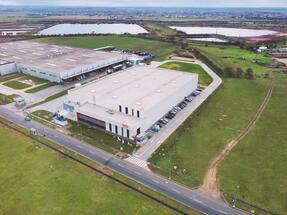 The boom in the logistics and industrial space market in recent years and the strong influence of e-commerce, especially last year on the dynamics of this market, due to the COVID-19 crisis, were the main reasons why Globalworth decided to acquire these two properties.
Already present in the area with an industrial park in the Timisoara airport area, with a GLA area of over 100,000 sqm, Globalworth adds to its portfolio of logistics and industrial areas another 27,000 sqm, thus reaching a total of 260,000 sqm.
IPW Arad (Industrial Park West Arad), with an area of 20,000 square meters is located in the northwest of Arad and built in two phases, the first of which was delivered in 2012, and the second at the end of last year , in November. The park includes both warehouses and production spaces, as well as offices.
IPW Oradea (West Oradea Industrial Park), completed last year, has almost 7,000 square meters and is located near the border with Hungary. According to Globalworth, it will benefit in the future from an intermodal terminal that is currently under construction.
The two parks have a 100% occupancy rate.