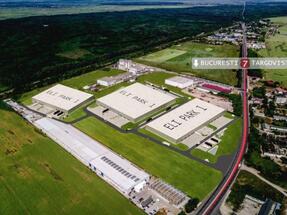 This is the first project built by Element Industrial, a Romanian developer of industrial and logistics spaces, and the fourth logistics park managed by Colliers. Thus, the total industrial portfolio managed by Colliers in Bucharest and in the big regional cities reaches 130,000 sqm, out of a total of over 500,000 sqm that includes office buildings as well.
"In Romania, the property management services market for industrial and logistics spaces is still in its inception. As a result, it is encouraging to see an owner of such spaces, at his first development, outsourcing these services to ensure a better performance of the project", Oana Adjudeanu, Director Property Management, Real Estate Management Services at Colliers International, said.
"The Colliers property management team has developed a long-term collaboration with owners of industrial spaces and now manages a fourth logistics project, becoming a leader in this niche. Out of the total portfolio of over 500,000 sqm, which includes office buildings, 130,000 sqm represent industrial spaces", Oana Adjudeanu concluded.
The industrial park ELI Park 1, developed by Element Industrial, is located in a very strong logistics hub, in the Chitila-Buftea region, with very good access to the north of Bucharest and to the labor force in the area. The first phase of 20,000 sqm was delivered in September and has already been leased to the home appliance manufacturer, Arctic. The project is connected to public transportation lines and is 4 km away from the Capital's ring road, having direct access to a four-lane national road, DN7, and immediate access to the A1, A2 and A3 highways.
The total area of ELI Park 1 will be 50,000 sqm of industrial space and offices, as the second phase will be delivered next year. The entire project will be developed in compliance with international class A standards, and the total investment will amount to over EUR 25 million.
"Developing to international class A standards is part of the Element Industrial identity and the subsequent efficient and professional portfolio management helps us provide our clients with a complete, high quality experience", Muler Onofrei, CEO & Co-Founder Element Industrial, explained.
As part of the property management mandate for the 20,000 sqm of industrial space at ELI Park 1, the Real Estate Management Services at Colliers will manage the relationship between landlord, suppliers and current or potential tenants, by providing integrated services from operational monitoring to financial services and ownership reporting.
The portfolio managed by Colliers International also includes: Business Garden Bucharest, The Office in Cluj-Napoca, The Bridge, Hermes Business Campus, Stefan cel Mare Building, Art Business Center, the office portfolio owned by Adam America, Allianz Office Building Brasov and Vox Technology Park in Timisoara, and three industrial parks in Timisoara, Brasov and Arad. (source: Colliers)