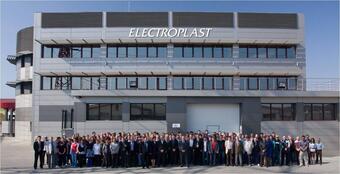 Through this acquisition, ROCA supports the modernization of infrastructure in Romania, reconfirming the mission of the platform to contribute to the development of the national economy. By the end of this year, ROCA aims to obtain the necessary certifications for exports to Germany and Austria, with international expansion planned for 2020 in these external markets and not just.
ROCA took over Electroplast from Italian Cable Company S.P.A., a leading manufacturer of power cables and wires for industrial applications. Together with Electroplast founding shareholders, ROCA has already formulated a framework for collaboration between the two entities.
"We are glad to have an experienced investor alongside and we are convinced that ROCA will become the strong partner we need in our work. We believe that the expertise and tools offered by ROCA will contribute to the success of our projects and will help us reach the next level of development", said Gavril Muresan, CEO of Electroplast.
In 2018, Electroplast SA had a turnover of more than 82 million lei, the estimates for 2019 being an overrun of the amount of 90 million lei. The company entered the Romanian market in 1993, employs more than 100 employees and has since its establishment set up a diversified portfolio of clients, including Telekom, CFR National Railway Company, Siemens, Alstom France, VLG.
"Investing in cable production is a strategic move because of the opportunities for developing the road, rail and underground infrastructure that Romania has. We trust that with the completion of the complex transaction, which we have been working on hard since last year, we will be able to capitalize on this potential. By investing in capital, diversifying products and penetrating new markets, we are proposing Electroplast to join the top three cable manufacturers in our country", said ROCA CEO Rudi Vizental.
The main products of Electroplast are copper or aluminum electric cables with a wide range of production, both in terms of cable type and thickness, and type of insulation used. The company also has a modern testing laboratory, accredited by RENAR (the national accreditation body in the field) as well as by AFER (the Romanian railway authority), for railway trials. Infrastructure, alongside the automotive, power, commercial, industrial, civil and telecommunication sectors are the main areas for the use of cable manufactured by the company (source: ROCA)