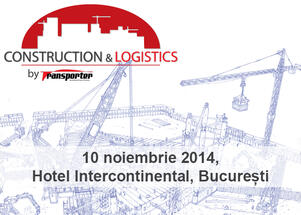 The number of the real estate transactions in the industrial and logistics sectors has increased this year to a level which allows us to say that we are assisting a market recovery. The real estate agencies and the consultants within the field say this could be even the best year since the beginning of the economic crises.
The European real estate market has exploded this year, especially in Central and Eastern Europe. In the first nine months this area has attracted EUR 4.3 billion investments, with 11 pct growth, the interest being focused on office projects, followed by retail and industrial.
Industrial spaces request worldwide was stimulated by the expansion of certain economic fields, such as auto parts industry, electronics industry, as well as the online commerce, sectors which also registered growth on the local market.
215 pct. growth for Romania
Romania had in the first nine months the biggest growth of the real estate transactions in Central and Eastern Europe, of 215 pct., a value of nearly EUR 700 million, compared to just EUR 63 million registered in 2009, the first year of the crises. The specialists' forecast shows that by the end of the year we could expect a total volume of EIR 800 million.
Infrastructure investments heavily cut
According to the most recent data from the National Institute of Statistics, the engineering construction works, meaning infrastructure, have decreased with 28.3 pct in the first eight months of the year, on the background of important cuts registered by the investment expenses of the state, which have decreased with 18 pct. in the same period. Overall, the construction works have decreased with 11.9 pct in the first eight months.
On this background the construction companies focus mainly on the private segment, trying to take advantage of the real estate sector's development.
What are the opportunities for the business environment in Romania
Together with the representatives of the logistics parks development industry we are going to analyze the evolution of the market and identify the opportunities and development perspectives for 2015. Moreover, we are going to talk about the warehouse and logistics facilities management for the optimization of the logistics companies and their clients.
The participants of this event include the representatives of the Romanian Logistics Association - ARILOG, the representatives of the Romanian Association of the Construction Entrepreneurs - ARACO, real estate agencies and consultants, real estate investors and developers, transportation and logistics companies,  as well as distribution and courier companies, FMCG, retail, automotive and pharmaceutical  companies, leasing and insurance companies.
The structure of the conference "Construction & Logistics. The development perspectives of the logistics parks and specialized warehouses"
PANEL I
·         How did the logistics and industrial parks market evolved in 2-14 and what is the forecast for 2015
·         How do we use the competitive advantages of Romania for the development of the logistics infrastructure in the region
·         Expansion or relocation: What are the "hot" areas in the region
·         The construction companies focus on private
·         Trends in tenants' requests for logistics and industrial facilities
PANEL II
·         When do we take the decision of investing in warehouse facilities' expansion
·         Rental vs. acquisition: what is the favourite option in the current economic context  
·         Intra-logistics infrastructure optimization: WMS, ERP, security systems
·         Investing in equipments: forklifts, racks, conveyors, scanners
Labour and warehouse staff training 
Partners: Garanti Leasing, Groupama Asigurari
Event organized with the support: ARILOG, ARACO
Media partner: www.depozitinfo.ro
Further event information and attending confirmation:
0730 713 330 sau [email protected]